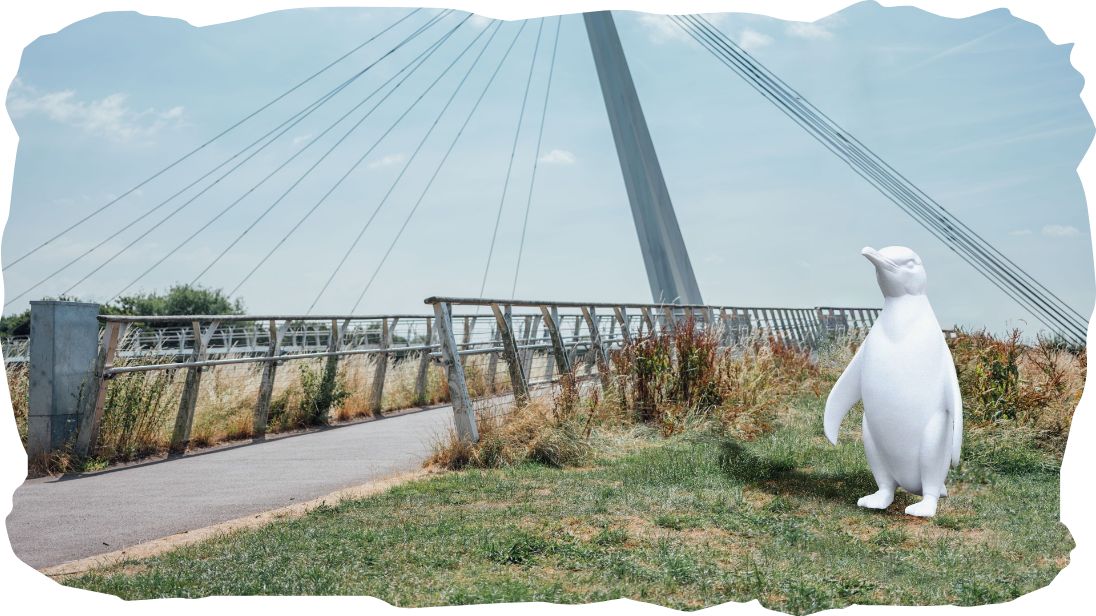 The great Waddle of Worcester 2024
Summer 2024 will see Worcester transformed into a free, fun art space as a waddle of wonderfully designed penguins slide into residents' and visitors' hearts and camera rolls.
Just like their giraffe and ele-friends before them, the St Richard's Hospice huddle is on a mission to unite the city and create lasting memories along the way.
A Wild in Art trail, forty big, brrr-illiant yellow-eyed penguins will go on display for eight weeks alongside forty chicks designed by local schools and community groups.
Each sculpture will be sponsored by a business and individually designed by an artist – either well-known or just starting out, from the Worcestershire area or further afield.
They'll waddle in on Monday 22 July before leaving us all on Sunday 15 September 2024.
After this, there will be the chance to say a final 'goodbye' at Farewell Events, before each big penguin is auctioned to raise funds for St Richard's Hospice and each chick returns to its forever home with schools and community groups.
There's a way to go before the hospice huddle is here, but we hope you'll join us on the journey towards summer 2024!
A previous trail visitor…
"It gave us an activity to do whilst on school holidays with a train ride. Exploring Worcester with amazing sculptures to find. The children loved seeing each one and chatting about their favourite design."
About the Trail
Waddle with us…
Get the latest penguin post straight to your inbox.
Please read our Privacy policy which includes details about how we process personal data; how to exercise your privacy rights and how to opt out of email marketing.
Partner a Penguin
There are so many business benefits of sponsoring a great Waddle of Worcester sculpture;
Gain media exposure for your business
Be part of an event which brings thousands of visitors to your local community
Improve brand awareness for your business or organisation in a unique and memorable way that will get everyone talking
Build a feel-good factor among your employees, customers and stakeholders
Align your business with a well-respected local charity which provides vital services for people in your local community
Be part of something amazing
Find out more
How penguins will power patient care
The great Waddle of Worcester is being brought to the city by St Richard's Hospice. At the end of the trail, each big penguin and one chick will be auctioned to raise money for the charity's free care to patients, loved ones and bereaved people in Worcestershire.
The charity has delivered two previous, hugely popular Wild in Art trails; Worcester Stands Tall, in summer 2018, and Worcester's Big Parade, in summer 2021, which combined raised more than £700,000 for the care of patients and families.
Find out more
A Wild in Art Event
Wild in Art is the leading producer of spectacular public art events which enrich, entertain, inform and connect communities – giving people of all ages a voice through art.
Find out more
5,000+
Scultpures created
100+
Events delivered
11m+
Participants attended